Commemorative Plaques
Our commemorative plaques add a special touch to any opening / unveiling ceremony. Engraved for permanent marking and available in a variety of materials suitable for internal or external use. Commemorative plaques can incorporate English Standard Braille and are available with timber plinths.
Special consideration is given for delivery, as we are aware, names and dates are often not available until the last minute. Our stainless steel or bronze commemorative plaques, often used in those far away places, will last a life time.
As with all products, our commemorative plaques are final inspected, to ensure they are error free, when received by our customers.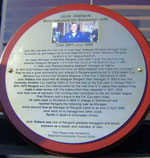 Interested?
Contact us via phone
If you'd rather call, telephone us on 01620 823 344.