Control / Mimic Panels
Our Control / Mimic panels are available in a variety of materials and are generally manufactured to engineering drawings. Panels are machined, to incorporate any shape required and engraved for permanent marking. As well as engraving, our machines have a profile milling capability, so the whole job is done on the one machine, to very fine tolerances. This procedure of course helps reduce time and costs.
As with all products, our control / mimic panels are final inspected, to ensure they are error free, when received by our customers.
Control / Mimic panels are supplied with a certificate of conformity.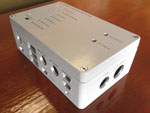 Interested?
Contact us via phone
If you'd rather call, telephone us on 01620 823 344.