Desk Nameplates
Our desk nameplates are supplied in a variety of designs, incorporating engraved names, or wording identifying a selected area of a building. Ideal for that crucial first impression.
As with all products, our Desk Nameplates are final inspected, to ensure they are error free, when received by our customers.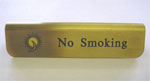 Interested?
Contact us via phone
If you'd rather call, telephone us on 01620 823 344.