Door Entry Panels
Most new developments including offices and apartments now come with added security in the form of door entry intercom systems. Door entry panels are supplied free issue to us, manufactured from stainless steel, to be engraved with a permanent marking.
We can engrave a large variety of font styles / images onto these panels, including company logos and English Standard Braille.
As with all our work, our engraving on door entry panels is final inspected, to ensure it is error free, when received by our customers.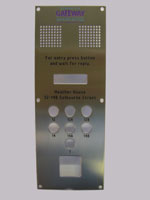 Interested?
Contact us via phone
If you'd rather call, telephone us on 01620 823 344.