Identification Labels
Our Identification labels are supplied in a variety of materials, but are generally engraved onto sandwich engraving laminates. Once the top layer of material is removed by engraving, a different colour of core is exposed, revealing an instant permanent marking.
These labels are most often used in the electronics, electrical, chemical, or engineering industries, but in reality can be used anywhere, as they are suitable for outdoor use and have a high corrosive resistance.
As with all products, our Identification labels are final inspected, to ensure they are error free, when received by our customers.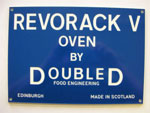 Interested?
Contact us via phone
If you'd rather call, telephone us on 01620 823 344.