Measuring Gauges
Our measuring gauges are machined to any shape required, engraved for permanent marking and are available in a variety of materials. Our machinery is very accurate and our skilled engravers are used to working from engineering drawings to fine tolerances.
As with all products, our measuring gauges are final inspected, to ensure they are error free, when received by our customers.
Measuring gauges are supplied with a certificate of conformity.
We also have a large range of fishing gauges available at www.fishinggauges.com.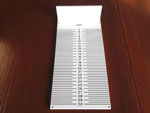 Interested?
Contact us via phone
If you'd rather call, telephone us on 01620 823 344.