Presentation Plaques
Our presentation plaques are engraved, which adds that special touch to any leaving gift, or award. These plaques can incorporate English Standard Braille and are produced in a variety of materials, including brass, which can be lacquered, to retain its mirror polished finish.
As with all products, presentation plaques are final inspected, to ensure they are error free, when received by our customers.
Here are a few example of Presentation Plaques, Click on an image to view a larger image.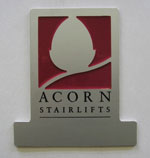 Interested?
Contact us via phone
If you'd rather call, telephone us on 01620 823 344.