Specification / Instruction Plates
Our engraved Specification / Instruction plates are manufactured from a variety of durable materials, including stainless steel. These are ideal for displaying important specifications / instructions in a variety of places, particularly in areas with a hostile environment, such as chemical, or off shore locations. However, they are also excellent for displaying important information on engineering tools, or special equipment.
As with all products, our Specification / Instruction plates are final inspected, to ensure they are error free, when received by our customers.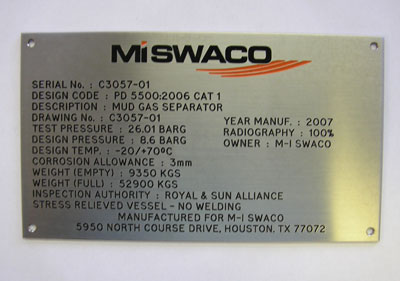 Interested?
Contact us via phone
If you'd rather call, telephone us on 01620 823 344.