Tariff Plates
Our tariff plates are engraved to produce a permanant marking. They are generally fabricated from stainless steel or aluminium, are suitable for outdoor use, as well as being vandal proof. Perfect for those wishing to show price ranges, such as car parking charges.
As with all our products, our tariff plates are final inspected, to ensure they are error free when received by our customers.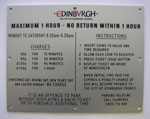 Interested?
Contact us via phone
If you'd rather call, telephone us on 01620 823 344.